The amount of courses offered in computer education and technology at Independence High School has certainly increased over the past 10 years. There are several electives that students can take including computer programming, digital media, game design, ESPORTS - Gaming and Production, as well as AP Computer Science Principles. Students look forward to the addition of two additional courses in the 2023-24 school year including IHS-TV and Streamlabs, a self directed class where upperclassmen can find their passion project, investigate new technologies, and compete in local and national competitions.
Computer Programming, offered as an elective to 9th-12th grade students, is a ½ credit semester course. Text-based computer programming represents "real" programming. After learning block-based programming (Scratch, EV3, etc) at Independence Middle School, programming via Python is a jump into the text-based programming used by IT professionals. Course concepts include problem solving techniques, program design, control structures, functions, loops, data structures and algorithms.
This fall, IHS student Nathaniel Firlik won a regional python coding competition and is headed to state competition March 9th in Columbus. "This course has allowed me to be creative in my coding and problem solving working on independent projects" said Firlik. He plans on a future career in technology.
Digital Media is offered as an elective to 9th-12th grade students. It is a ½ credit semester course for students thinking about a career in digital media creation. Topics covered in Digital Media include graphic design, animation, audio production, and video production. Students enjoy learning the techniques that drive the visual experience of film, magazines, and digital content.
Game Design is offered as an elective to 9th-12th grade students. It is a ½ credit semester course where students learn to weave creativity, computer programming, and storytelling. Students learn how to use popular game-development software to create engaging, interactive games in a variety of styles. After learning about game genres, students learn about all aspects of the game-design process. From there, it is on to a series of increasingly challenging hands-on projects that teach all the elements of successful game development. "Game Design is actually my favorite class to teach because it is a perfect blend of art, coding, and problem solving," said Technology Teacher Phil Palumbo.
ESPORTS - Gaming and Production is a popular elective for 10th-12th graders. It is also a ½ credit semester course that teaches how to improve skills using the Growth Mindset by setting high goals and targeting practice tasks to achieve them. All students are expected to create high quality video productions suitable for professional ESports leagues and video game content creators. By the end of the course, students grow in individual game skills, teamwork, and team collaboration. "My favorite part of eSports class is being able to play and edit your own best plays into a Youtube video montage," said student Ray Sorace.
AP Computer Science Principles introduces students to the foundations of computer science with a focus on how computing powers the world. Along with the fundamentals of computing, students learn to analyze data, create technology that has a practical impact, and gain a broader understanding of how computer science impacts people and society. The coding languages taught are a combination of Visual Block Coding and Python 3.7. "AP Computer Science Principles has a good balance of 90% work and 10% fun," said student Madeline Kitagawa.
Looking towards the next school year, Steamlabs will be offered for students in 10th-12th grade as a project-based learning opportunity where students can find their passion project, investigate new technologies, and compete in local and national competitions. Students will use science, technology, engineering, arts/humanities and mathematics concepts to make authentic connections to explore their passions.
IHS-TV will produce a weekly IHS news program that is broadcast to not only the high school, but throughout the district and community. Concentration in this class will be on production techniques used in the TV industry and creating additional programming to enhance the news program. Students will learn the basics of lighting, video camera techniques, teleprompting, research, script writing, computer graphics, animation, videotape editing and performance techniques. Students will spend the semester or year creating media that can be posted to the many different outlets in Independence. The goal is to also improve students' written and verbal communication via live broadcasts and other digital media formats to help students share their story.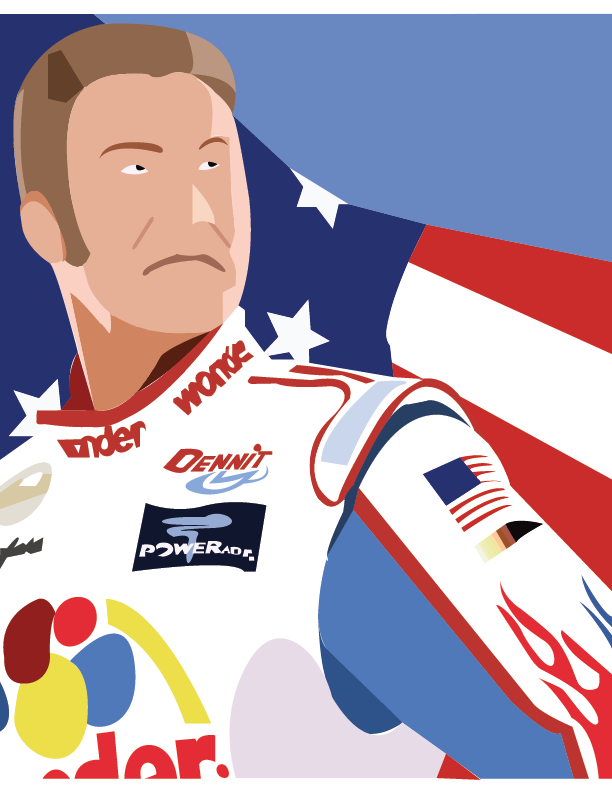 Senior Aidan Zambito
Vector Adobe Illustrator Artwork "Ricky Bobby"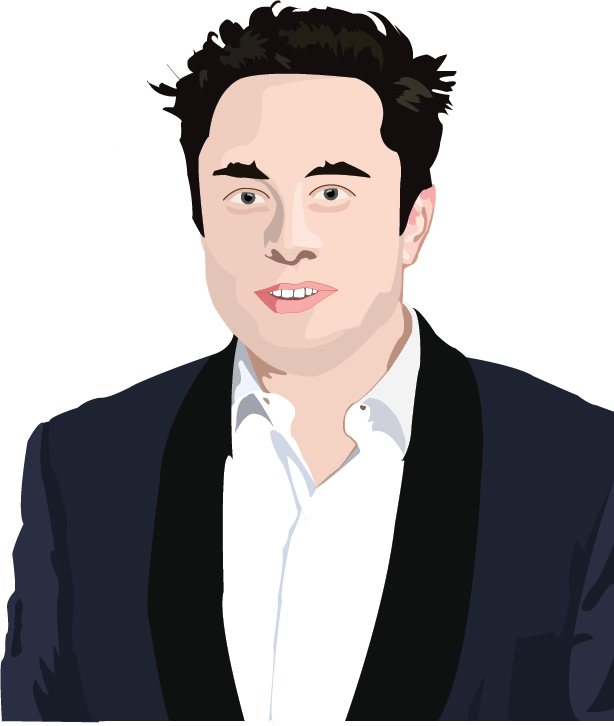 Sophomore Anthony Freeman
Vector Adobe Illustrator Artwork "Elon Musk"